humanity
plural humanities
1 :compassionate, sympathetic, or generous behavior or disposition :the quality or state of being humane (marked by compassion, sympathy, or consideration)
(Merriam Webster Online)
It is becoming increasingly difficult to be a Trinidadian right now because sad to say, I live among people who don't deserve to live in this country, far less this on this planet as human beings.
With the grand exception of the Christmas into Carnival period which is like our yearly escape from reality/purge of bad vibes/one love fest, during the rest of the months we have seem to become a people without hope, descending into a despicable mentality fueled largely by selfishness, race, tribalism, spite, jealousy and greed. There I've said it. Harsh? (Where are the lies though?)
Dominica was an island that was largely green, an Eden of sorts, everywhere green with lush flora and fauna. When Hurricane Maria hit, the pictures that emerged were heart-breaking. Aerial shots showed houses with no roofs, broken trees, flood waters and brown earth. The island is completely ravaged, so much so that it brought the Prime Minister to tears on television.
So cue CARICOM. Already there was a need to pour aid into the island of Barbuda, completely destroyed by Hurricane Irma weeks aback. Now as part of the Community there is need to rally behind Dominica as well. Trinidad's Prime Minister said that Dominicans with friends and family here are welcome for six months with no hassle, we're opening our borders to help our brothers in need, as good neighbours ought right? Well thanks to social media, people's petticoats started to show. These are actual comments from the keyboard warriors on public fora not to mention the private groups of which I'm a member (there are some HEARTLESS teachers out there, TRUST ME!):
"They will have the same rights as national……This is a political move to gain votes….."
"Is mother Africa sending any aid to hurricane struck islands? Is she opening her home and her pot?"
"…he should open the door to the refugees in Bangladesh"
"just like how it have homeless an needy ppl here all alyuh who agree should take in one homeless Trini…and again I stress that charity begins at home. There is no reason not to help but don't leave your own to suffer."
Sigh, it was difficult to sift through the vitriol but I made it out alive. I will also return my new personal rule of not reading commentary after article posts. My brain cells are depending on me.
Whither the humanity Trinidad and Tobago????
Now it is notoriously hard to please a Trini eh but something as basic as this? The people island get mash up!!! No infrastructure, no services, no access to communication, in many cases no homes and bare food and you wanna tell me that if they have friends and family over here, people have a problem with them coming? People's main concerns are about voter padding, "my child didn't get into Fatima College so it's not fair for Dominican children to go to school here" and suppose they will all our food and jobs??? Sipping on that Donald Trump tea? Give me a fucking break? How difficult is it for people to see this rationale behind the decision??? Let me help you. When the day comes and Trinidad gets fucked over by a mega-Hurricane or by a Mexico-quake (and remember, Karma is a bitch who likes to say, "hold my champagne"), whoever is the new American president (because, Trump 😒 ) or even the Canadian hottie prime minister could make an announcement, "hear what Trinis, once you have friends or family here in the US or Canada, you're welcome for six months". Lie to me and tell me you're not going!!! I'll wait!!!!…….
…………………….
……………………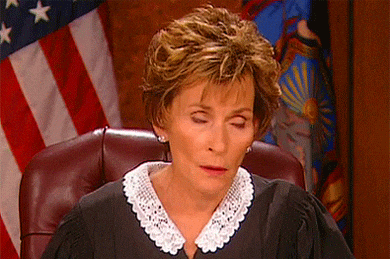 Puh-leeze!
Some of us need to take stock of our lives, and I'm not even talking about our physical lives and our needs. I'm talking about our personal lives, our souls, because there is a cynical rot that it taking over that is affecting our present and will most definitely affect our future and I have Trinidadian children to raise and hopefully Trinidadian grandchildren to spoil! A lot of people don't get that the core of most of the problems in Trinidad and Tobago stem from ourselves, what we hold personally dear, our value systems, our beliefs and notions about what it means to be a HUMAN Being, what we engender in our families and what we contribute to the society in which we live. Crime, crumbling institutions and systems, low productivity, political nonsense all generate from that. So if we as a nation are made up of individuals who measure along this lack of humanity, we are truly lost.
To all who have the courage to defend what it means to be a Trini, I applaud you. I am doing the same. I am blooming where I am planted, it is a philosophy I will continue to ascribe to and according to my vocation, it is one that I will continue to share with those who are to lead in the future. More individuals need to be doing the same instead of down-crying, blaming and stewing in the morass of 'inhumanity'! That is the ONLY way that the Trinidad and Tobago that we all dream of can return to existence. Fix it!!
Bless up
TMIDM
P.S. There are many organizations taking donations of items but I'm putting here a list of things specifically requested by the Dominican government. Every little bit of help will help. Give. What you put out into the universe always returns to you, sometimes doubly.